THE MEKONG DELTA 2015 REPORT
WONG, Chun-kwan (Hong Kong Workers Health Center)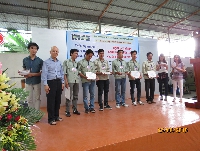 It is my pleasure to join the Mekong Delta 2015 (MD2015) workshop in Vietnam on 22-28 July. As the only participant from Hong Kong, first of all, I have to express my thankfulness to the organizing committee for offer me the special arrangement so that I could attend the workshop with financial aid and could learn from Dr. Kogi, Dr. Toai, Mr. Nakao and all the facilitators directly on the preparation and implementation of Participatory Action-oriented Training (PAOT).

This is the first time I have been to Vietnam. For a rookie, the information delivered beforehand was clear and the arrangement of the workshop including the picking-up schedule at the airport on the first day was sweet. All the Vietnamese participants are friendly and helpful. They showed me the true and beautiful life of Vietnam, and helped me a lot throughout the 7-day workshop, especially Ms. Nguyen Hoang Anh Thu & Ms. Phan Nguyen Ngoc.

I was in Group 4 and Dr. Sara and Mr. Vang Phu Khanh were our facilitators. They gave the guidance and explained the key messages to us in all sincerity. It is crucial to helping us to get the concept of PAOT correctly and maximize the effectiveness.

Other than the feelings mentioned above, below are some of my opinions, as the participant's point of view, to the organizing committee and for your consideration:

1. As PAOT is a programme aimed to improve the health and safety in the workplace for the frontline workers / farmers, most of the messages delivered in the 1-day training workshop for workers are based on the principles of occupational health and safety (OHS). But, because most of our participants, especially the Vietnamese friends, are studying medicine or auxiliary medical science, they are not familiar with the fundamentals of OHS. So as Dr. Toai commented during the workshop, part of the messages were understood or emphasized by us incorrectly. I suggest to have a brief introduction of all the training points and supplementary photos on the PPT slides, at least for the "default" version, during the PAOT Methodology Learning section. Then all the participants will get a clearer understanding before their shows.

2. After the Good Example Collection section, participants needed to prepare for the training PPTs for their own. But, the laptop was not mentioned in the information delivered beforehand. Foreign participants might not realize that and did not bring the laptop along with them. I suggest to add a laptop into the list of "Key Items" for reminding / recommending foreign participants.

3. The arrangement of both the Welcome Party and Farewell Party were amazing. The atmosphere was incredible. But it seems not all the participants, no matter local or foreign, did know the exact arrangement of both parties. It makes them not prepared well including me and at least one Vietnamese participant. As the traditional dressing of Vietnam and different countries was one of the unforgettable memories for participants, I suggest to keep it and be emphasized to all the foreign participants in the future. And the local friends are recommended to share more about the arrangement and preparation between themselves and with the foreigners.

At last, many thanks again for the kind help from the organizing committee, Dr. Kogi, Dr. Toai, Mr. Nakao, facilitators and all Vietnamese participants. What a treasurable moment and experience I got from MD2015. I Hope I can join the Mekong Delta workshop again in the near future.

Hong Ngan (Can Tho Medical College, Vietnam)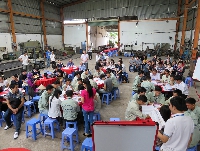 My name is Ngan, I am a member of group 4. It is my pleasure to have a chance to take part in the Mekong Delta 2015 Program.
During the program, I had a chance to participate in the workshop. Our group tried our best to conduct the lecture. I was so lucky to be a member of group 4, and we worked hard together, had a lot of fun and beautiful memories.
I learned many things throughout this workshop, about PAOT. Now I can also apply this method to my house.
However, in my opinion, I think the program of this year was quite hard. We had to work hard and sometimes we were tired. I had trouble with time management. But I am sure I did my best for our workshop. I will keep improving my English and communication skills.
If I made any mistakes or made you feel uncomfortable and disappointed during the program, please receive my apology.
I hope you had good time in Vietnam. I would like to thank you for a great program. I wish you many more success and good health.


Michihiro Hattori (University of Occupational and Environmental Health,Japan)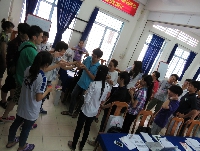 I studied a lot of things from the Mekong Delta program. Now, I summarize three good points.
① Emphasize good examples:
When I saw some factories, I always check bad points in the factories.
For example, workers do not wear protective masks, local exhausts do not work efficiently. But, this program emphasize good examples. This action makes workers' motivation increase. Workers themselves improve their environment.

② Low cost, build on local practice:
Everyone is living in his or her own environment.
So, the way to make improvements is deifferent. In Japan, the way is good practice, but in Vietnam this way may not be good. Everyone has deifferent culture, economics.
It is the most important that we should build on local practice.
We should a lot of communications with local workers.

③ Communication with Vietnam people:
I have traveled some countries. But, I did not have chances of communication with people who lived there. When I travel some countries, I talk to tour guide, see sight-seeing areas, buy some items. But, in the Mekong Delta program we have enough time for communication with Vietnamees people. This experience is very valuable. I cannot write everything here.I feel that the times with Vietnam people are joyful, stimulating, enriching.

I
Nguyen Huynh Tu Trinh (Can Tho Medical College)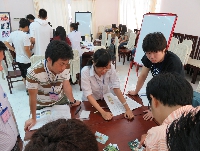 My name is Trinh. I am from the Can Tho Medical College. I am a participant of the 15th International Mekong Delta Workshop Committee 2015. During this program, I have gained a lot of useful things, especially three things below.

Firstly, I learned about PAOT and learned how to conduct a PAOT workshop. It is very important. In addition, it helped me feel more confident when I had presentations. Secondly, I was able to learn how to work in a group and do it effectively. It is very useful for my studying and my job in the future. Thereby, I could learn a lot from my team members and other teams. Lastly and the most importantly, It has brought to me many new friends, Vietnamese friends and foreign friends. Moreover, I had an opportunity to learn more new things, new different cultures. And I could also show you how beautiful my country is.

Thank you very much for giving me a chance to join this program.



Teru Igarashi (Takasaki City University of Economics)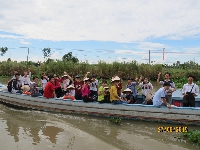 In participating in this program this time, I had the following worries. Uneasiness in the language, uneasiness about the difference in culture, uneasiness about the meal. However, such uneasiness gradually settled down as they passed through the dates.
At first, on the first day, I understood the summary of the participation-type improvement activity and it was to understand a future plan and the work contents in the group. But as for the first day, I listened to an English dialect with the field characteristics and had a hard fight in understanding what I heard. In addition, I was tense and was not able to readily speak. But I felt that it was good that the group members were able to make friends through a night welcome party. After the second day, I chose talks, the appropriate photographs about an improvement activity in a group and practiced the presentation.
By the talks at that time, I insisted on one's opinion positively and felt it when there were good talks. I thought that I was able to announce it while looking around the whole without talking relaxedly, and watching the paper closely in the exercise of the presentation. And I think that I was able to talk clearly and slowly to have everyone understand a local worker in the public performance. At that time, workers heard our presentation and understood it when it was good to have done talks seriously. I enjoyed Vietnam as well as improvement activities. When I talked with a group member and went for dinner, I enjoyed Vietnam everywhere. When I looked at the town of Vietnam for the first time, it was shocking that many motorcycles ran. In addition, what I was able to sense about Vietnamese culture with its various aspects was good when I ate a light meal and a tea break and put ice to drink beer and ate various fruits. I proceeded to the house of the farm village during the sightseeing on the last day and saw it while I still continued improvement activities. I strongly felt that each improvement activity was important.
On the last day that I also met a group member who came in the morning to the hotel, and everybody who saw us off shed tears, and I cried, too.
I did not think that I could make friends so much when I first met you. I could do so by the parting that was so impressive. The experience I gained by participating in this really happy program was really good!!