My impression of Mekong Delta 2018
Rion Hayashi (Aich Prefectual University, Student)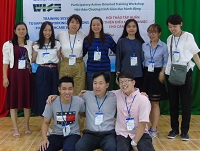 The purposes of the program, Mekong Delta 2018, were to learn about PAOT (Participatory Action Oriented Training), to know what has been done through PAOT and to expand networks of PAOT. I got introduced this program by one of my university teachers who had attended the program years ago. Although the program in 2018 was focused especially on medics, which I am not interested in, participating in Mekong Delta 2018 was a great success for me. Through this program, I learned many things about PAOT and also about Vietnamese people and foods. I have two reasons why it was a success, and one suggestion to improve this program as a better one.

Firstly, this program let us have experience carrying out PAOT. Due to the short-term training, I only learned a tiny part. However, thanks to the participatory program, I have learned and also experienced what should be done in PAOT. Especially in this program, participants had to carry out the real PAOT training to the workers in the real hospital. This experience made participants to be more familiar with the training, even if it was perfect or not. Also, I am sure that I shall be carrying this kind of training, or facilitating in my future. Therefore, experiencing this kind of training earlier was a great opportunity for me.

Secondly, I was able to create new Japanese, Vietnamese, and other foreign friends. Especially, having opportunities to have conversations and to be friends with local Vietnamese people are the greatest part of the program. I think many other kinds of training programs carried out overseas, for Japanese, do not have such opportunities. These opportunities made us able to know what Vietnamese people are like, and also to have Vietnamese foods. For me, local foods in Vietnam were great, and I missed the foods as soon as I arrived in Japan, while I usually miss Sushi at first. Also, we do not need to suffer which food to order if we are with them.

Finally, to make this program a better, each facilitator, especially Japanese and Vietnamese because they consist most of the participants, must promote more teamwork and communication. I understand every training is not the same, but if one of the facilitators was misunderstanding what and how to do, the participants will definitely confuse. Especially Vietnamese and Japanese facilitators have to understand each other because sometimes what Vietnamese were saying and what English-speaking facilitators were saying were different. For example, on the first day, in the photo voting time, English-speaking facilitators were saying voting paper was for first and seconds, but Vietnamese speaker was saying each voting paper was for S (simple), I (inexpensive) and C (clever). Those kinds of confusions will expand because most of the participants have difficulties having communication in English. Therefore, to make a program be carried out smoothly, I think each facilitator needs more preparations before the program starts.

To summarize, by participating in this program, participants were able to learn about PAOT and make new friends. Even though some points of the program should be improved, I can say Mekong Delta 2018 was a great program. I greatly appreciate people who were in charge of this program.


Report for Mekong Delta 2018
Nodoka Yamaga (Juntendo University, Student)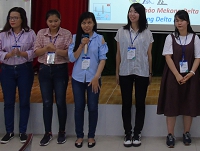 I participated in Mekong Delta 2018 for eight days from 16 to 23 August 2018. Through this program, I learned how to understand and facilitate PAOT procedures. I have participated only once in another PAOT workshop before, but this time the program also had very fulfilling contents for a long period of time. What I got at Mekong Delta 2018 is roughly divided into two parts.

The first is practical training of PAOT. First of all, we learned about PAOT with lectures and group work. We visited hospitals actually, learned experientially, and we were able to deepen our understanding by doing a presentation. Just not only doing but learning through all experiences has led me to my growth.

The second part is international exchange. Because Mekong Delta 2018 is held in Vietnam, in order to have conversation with other participants, had no choice but to speak English. However, I was not good at English, so it was very difficult to communicate. However, as I interacted with people from various countries through the workshop, I became able to understand what I wanted to say about what people would like to talk about when I spoke. Also, I was able to learn how to use conversation other than words by utilizing the body language. With this exchange, I was able to develop friendship with new Japanese friends, Vietnamese people and people from many other countries.

In a workshop in a foreign country, there was sometimes a difficulty in understanding cultural language differences, but the feeling I had after overcoming them was that it was a valuable opportunity leading to very big growth. I thought that the Mekong Delta 2018 program which had such experience could really be a very valuable workshop and lead to further development in the future.